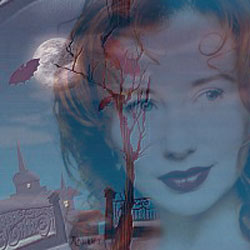 Could your life use some fun? Join Story Time and read some of the best twisted, magical, dark, bloody, sad, fantastic, comical, scary, and wondrous short fiction and non-fiction ever published.
Started on August 20th, 1996, Story Time was created as a way for me to share my passion for stories with friends online. The stories in each issue are from my extensive library of anthologies and are by some of the best authors in the world — writers like Neil Gaiman, Ray Bradbury, Roald Dahl, to name only a few. Many of the stories have Tori Amos connections, themes, or mood, but you don't have to be into Tori (or even know who she is) to enjoy them. I have many loyal non-Toriphile readers. I am also proud that I have subscribers who don't have time for any other lists, but they're addicted to Story Time.
Try it. I think you'll be hooked. I guarantee there's something for everyone. However ... please note that many of these stories do contain adult themes and Story Time is NOT intended to be read by children without adult supervision; I do share many stories that are indeed suitable for kids, but it is up to parents to monitor and choose which stories they want to share with their little ones.
To join Violet's Story Time, send a message to
storytime-request@torithoughts.org
with "subscribe" in the subject and message body.